Towards a Drone Cinematographer:
Guiding Quadrotor Cameras using Visual Composition Principles
*Authors contributed equally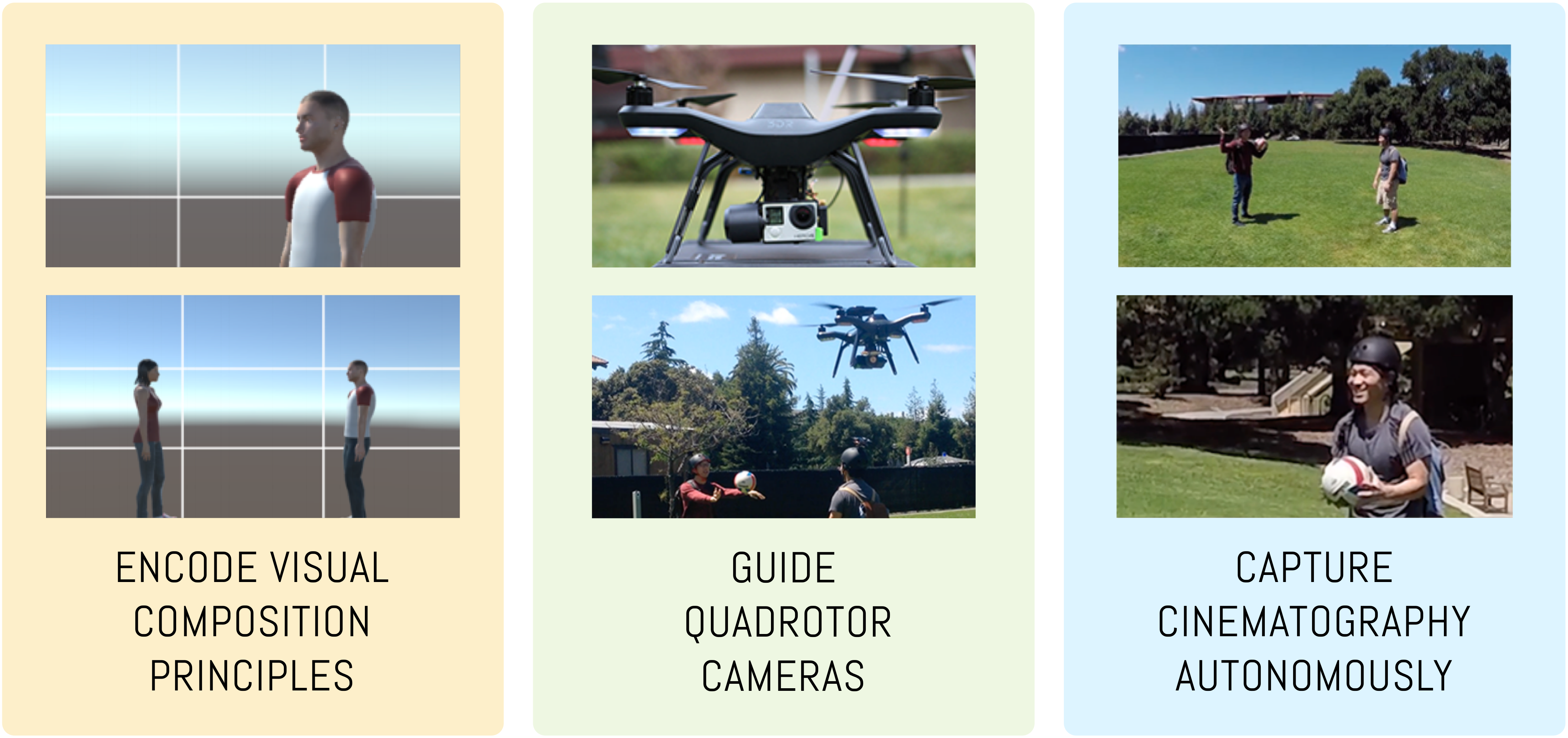 Abstract
We present a system to capture video footage of human subjects in the real world. Our system leverages a quadrotor camera to automatically capture well-composed video of two subjects. Subjects are tracked in a large-scale outdoor environment using RTK GPS and IMU sensors. Then, given the tracked state of our subjects, our system automatically computes static shots based on well-established visual composition principles and canonical shots from cinematography literature. To transition between these static shots, we calculate feasible, safe, and visually pleasing transitions using a novel real-time trajectory planning algorithm. We evaluate the performance of our tracking system, and experimentally show that RTK GPS significantly outperforms conventional GPS in capturing a variety of canonical shots. Lastly, we demonstrate our system guiding a consumer quadrotor camera autonomously capturing footage of two subjects in a variety of use cases. This is the first end-to-end system that enables people to leverage the mobility of quadrotors, as well as the knowledge of expert filmmakers, to autonomously capture high-quality footage of people in the real world.
Acknowledgements
This project would not have been possible without the generous assistance and support of many individuals.
Thank you to all the actors, friends, and dancers that volunteered their time to be in our videos: Patrick Tierney, Trisha McNamara, Lydia Chilton, Mackenzie Leake, Mike Roberts, Christine Phan, Antariksh Mahajan, Tracey Lin, Matthew Cong, Minjae Lee.
Thank you to Fergus Noble, Colin Beighley, Tim Harris and the entire Swift Navigation team for their support, assistance, and generous hardware donations.
Thank you to Dr. Brandon Basso, Dr. Dave Merrill, and the entire 3D Robotics team for their generous hardware donations and valuable support.
We thank Mira Doncheva, David Salesin, and Michael Rubin for their helpful discussions about the cinematography in this paper.
We thank Matthew Cong for his valuable technical writing advise and enthusiasm for our work.
This work was supported in part by a Microsoft Graduate Women's Scholarship.